The white kitchen has been a perennial favourite. Loved for the fresh, clean and light vibe it brings, at Zesta we've sold more white kitchens than any other colour. Even now when shows like 'The Block' are all about dark kitchens or layered kitchens with warmth, white remains the largest selling kitchen.
Why? Especially when it is perceived by some as cold, clinical and boring? And those that choose it are simply playing safe with a timeless, classic, tried and tested option?
To the contrary. White is popular because it is versatile. It has adapted to the style of the day – whatever that may be – cool and minimalist, or warm and unique.
Not sure what we are talking about? We'll show you some white kitchens we've done recently. And far from being boring old white kitchens – each one is unique.
The white kitchen is versatile
This is one we did in Forest Hill recently. The all-white kitchen from Zesta's Hamptons range has black appliances, creating a striking monochrome contrast. The textured marble splashback is a subtle point of interest in the room. The warmth comes from the blonde-wood floorboards and the matching bar stools to give it the perfect coordinated finish. And how easy is it to accessorize this kitchen? Far from being traditional, this is a contemporary kitchen.
Can be used as feature image when publishing
Here is another white kitchen from our Qualia range, very different from the previous one. This one is modern, glossy and is also beautifully accessorised. It is not your typical open plan kitchen. Functionally, the colour and finish are ideal. White opens the space, especially since it has cabinetry on all walls. The super-glossy finish is Senosan, the finest gloss finish known to man and the latest in European design. It is a hard-wearing, scratch and UV-resistant finish that will look great for years. It reflects light heightening the sense of space. The grey splashback, double ovens and fridge all have complementing tones. The stunning black sink, black and chrome tap and the sleek induction cooktop completes the modern look.
Two kitchens – one traditional, one modern. Both contemporary. Both white.
The white kitchen is the perfect backdrop
A white kitchen is anything but boring. Especially when it's setting the scene for feature elements. Like this Zesta Kitchen below that we did for a client in Kew. This is from our modern Nouveau range. It is a no-fuss, mid-size white kitchen elevated by the pop of the lime green glass splashback. The dark floorboards add another layer of contrast, allowing the white kitchen to stand out.
White kitchens don't have to be all white. This one is from our showroom in Cheltenham. The patterned tiled splashback would rarely be seen in a modern kitchen a few years ago. But here it is – dramatic, yet not out of place. And that's made possible by the neutral canvas of the white kitchen. It's the same with the island in the foreground. You could use very different materials and colours depending on the vibe you want. White allows you to personalise the space.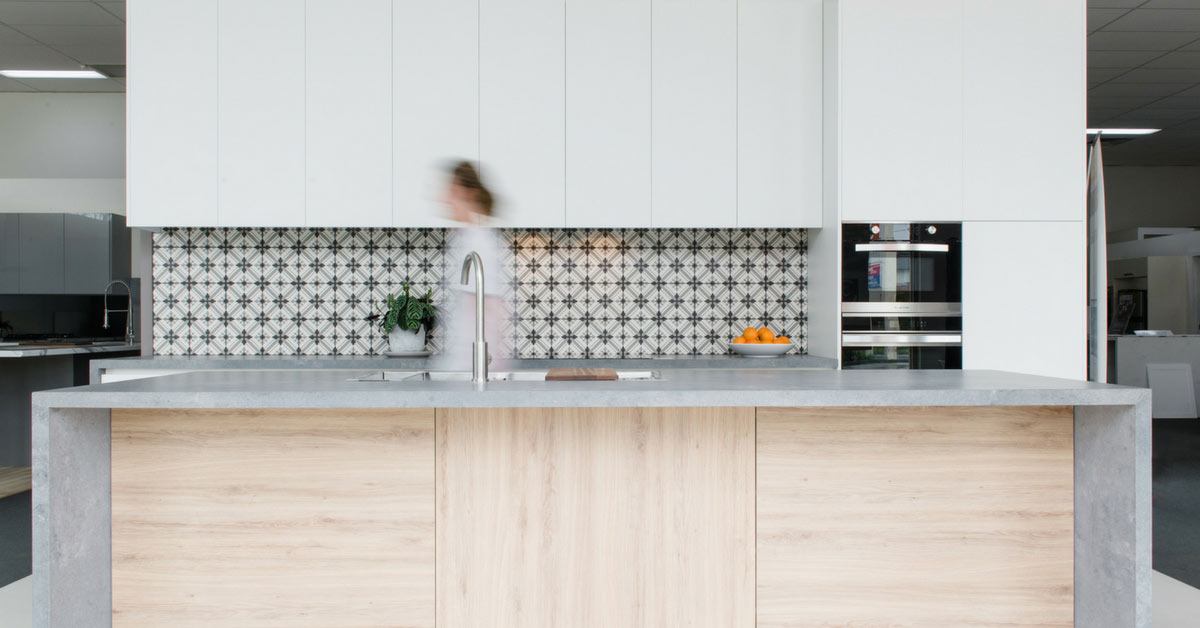 Makes for easy transitions
We've seen that in major renovations people are opting for an open plan kitchen when they can. Kitchen design then needs to be considerate of the design and décor of the dining and living areas adjoining the kitchen. Having strong colours will result in a discordant space and this is where a white kitchen emerges as the natural choice, especially if the walls are white. Here is one we did in Brighton. It's a U-shaped kitchen looking out into the dining area, which is quite eclectic. It had an overall modern look with a touch of oriental. The white cabinetry gave the space a clean, fresh and modern look, complementing the rest of the house.
Here is another one we did in Sorrento. This is a large kitchen in a large home. Scandi styling on white, glossy finish cabinetry allowed for easy transition into the dining area with its very Nordic look.
You may change the furniture every decade, but the kitchen will be around for longer. And white kitchens have that ability to transcend styles. At Zesta, we've got a wide range of white kitchens in every style. Come down to one of our showrooms and take a look. You will see how easily it blends with feature elements, in a transitional space and as a fresh, clean look on its own.