One of the first things our customers do when thinking about a kitchen renovation is to walk into a kitchen showroom and start looking at the kitchens on display. In scale, the cabinetry is the most dominant visual feature of the kitchen. But it is more – it determines the functionality of the kitchen. This post will explain why.
So, what are the different cabinetry elements that matter?
Style – traditional, modern or something in between.
Finish – matte, gloss, mirror finish or 2-pack poly paint
Colour – classic white, pastels, tuxedo or something more colourful
Types of cabinetry. Drawers, cupboards, pull-out pantry, display cabinets, wine racks and open shelving are some options. Kitchens have a combination of these, each serves a purpose.
Accessories like handles and drawer systems. Should you have push to open or overhang? Or those beautiful claw-shaped brushed steel handles you've always loved?
The cabinet style creates the ambience of a kitchen
A kitchen is defined by the looks of the cabinetry. And customers that visit us for the first time often have a pretty good idea of the style they are after. But seeing the kitchens on display, touching the finish, and experiencing the distinctive mood each style creates in the kitchen helps them to narrow their choices and the kitchen starts to take shape.
Here's a round-up of the main styles:
If the cabinetry doors are flat, minimalist, handle-less with a sleek look – that is a modern contemporary kitchen, best suited for homes with a similar architecture and decor. Like this one below.
If the doors have embellished joinery like borders or insets – these are more traditionally styled kitchen, such as the Epicure. This style of cabinets is all about adding detail and the final effect adds an old-world charm to the space.
Another very popular traditional style of cabinetry is the Kensington (also known as the Shaker kitchen). This, along with the Hamptons style of kitchens is reminiscent of family dinners in your mother's large dine-in kitchen.
Choosing a cabinetry finish:
This is another important decision to make. Again, this is as much about functionality, as style and customers are spoilt for choice – gloss, hi-gloss, mirror finish, semi-gloss and matte or flat. There's something for everyone. For instance:
Our Qualia model offers a 6-star mirror finish from Austria. The surface is super smooth and warm to the touch. It gives the same effect as a piano finish kitchen.
A matte finish is great for grey, black and white, but can be used with any colour. It does tend to show up fingerprints more than on gloss – something to consider if you have many people using a kitchen.
A 2-pack polyester finish, like on our Nouveau range, offers a fresh, clean look. The smooth finish does have an amazing level of toughness and elasticity, and does not chip easily. Always conveys high quality.
We recommend looking at your budget and situation to work out the best finish for your kitchen. Again, being in the showroom and touching some of these finishes can help decide.
Colour: contentious and confusing
Husband: How do you like the white? Wife: It's grey. That's the problem with colour. We all see it a bit differently. And it is all about personal preference. The one most enduring and popular colour has been white, across all kitchen styles. It exudes purity, cleanliness, freshness – all qualities we like to associate cooking with. White is also timelessly elegant.
At Zesta, we really believe that a kitchen should be about your vision and your preferences. And that's why we offer a range of colours – from white in every shade to post box red. Using a favourite colour in the kitchen can be very uplifting and can create a happy space to create memories. What you love, never gets dated! So, if you want to make a style statement with colour, we are right with you.
Also, while white is great for homes and offices, it may not be the best colour for, say, a school, kinder or childcare kitchen where more playful colours could be ideal.
If you'd like something in between – not a white kitchen, but some colour that adds warmth, you could consider the two-tone kitchen like the one below. It's great at breaking the monotony of a single colour and looks very modern.
Getting the mix right:
A well-organised kitchen needs the right storage. And that means designing the kitchen around the right mix of deep pan drawers, cupboards for crockery and small appliances, a right-sized pantry and open shelving. While you should keep convenience and efficiency in mind, there is plenty of room for personal preferences. For instance: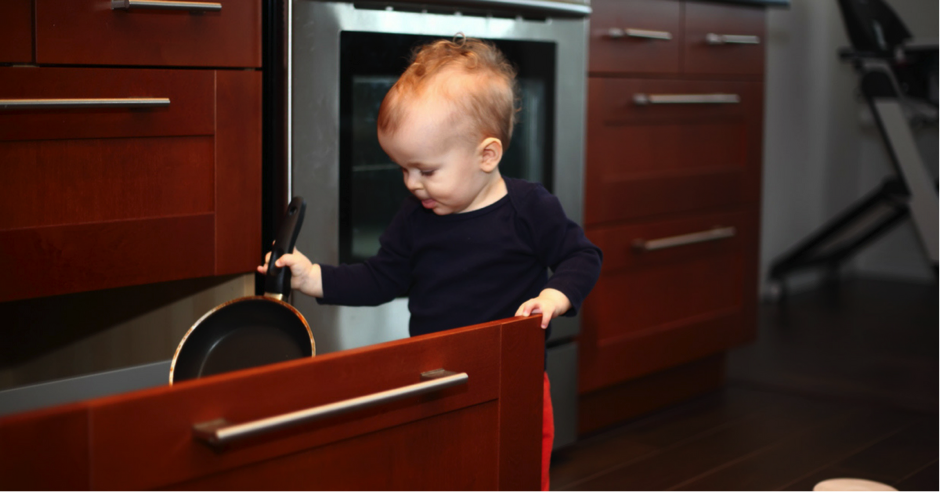 You could show off your crystal wine glass collection or your heirloom china dinner set in a display cabinet (which is great for adding an element of lightness in a solid space).
If you do a lot of cooking and entertaining, you may need more than one deep pan drawer. Ditto with the pantry if you have teenage children who need to be fed all the time. Add a large one to your wish list.
Not all cabinets need to be vertical. Depending on where they are positioned you could opt for horizontal ones with upward swing doors. Works well for overhead cabinets.
Open shelving – another great option for items you use frequently. Easy to grab and go. Chefs love open shelving for just that reason. Or you could have just a couple of open shelves for a few cookbooks and coffee mugs.
Your kitchen designer is your best friend in this process. Someone who understands your needs and makes sure everything is slotted in the right spot.
The main one are the handles, the hinges and the drawer system. While the handles are important for the kitchen design, the other two are really about functionality. If you've got a custom designed kitchen, we recommend only the best. It's well worth spending a little bit extra to have your kitchen working smoothly.
If you don't like banging drawers, opt for soft close.
Handles, overhang or push to close? Don't want handles or the fingerprints. Is the J handle an option?
What is a J handle? I suggest visiting one of our Melbourne Kitchen showrooms and booking an appointment with one of our kitchen designers and we'll answer that one along with all the others.