White kitchens are on the top of the list for most popular and we think that's because they never date. White always looks sharp and fresh in any home.
Sounds simple to choose a white kitchen and once you choose the finish be it gloss or matte we know it will be one of the best decisions you can make. With a white kitchen you can always add splashes of colour or mix it up with a simple vase of coloured flowers and some black pendant lights as seen here can provide that "added touch" to create warmth!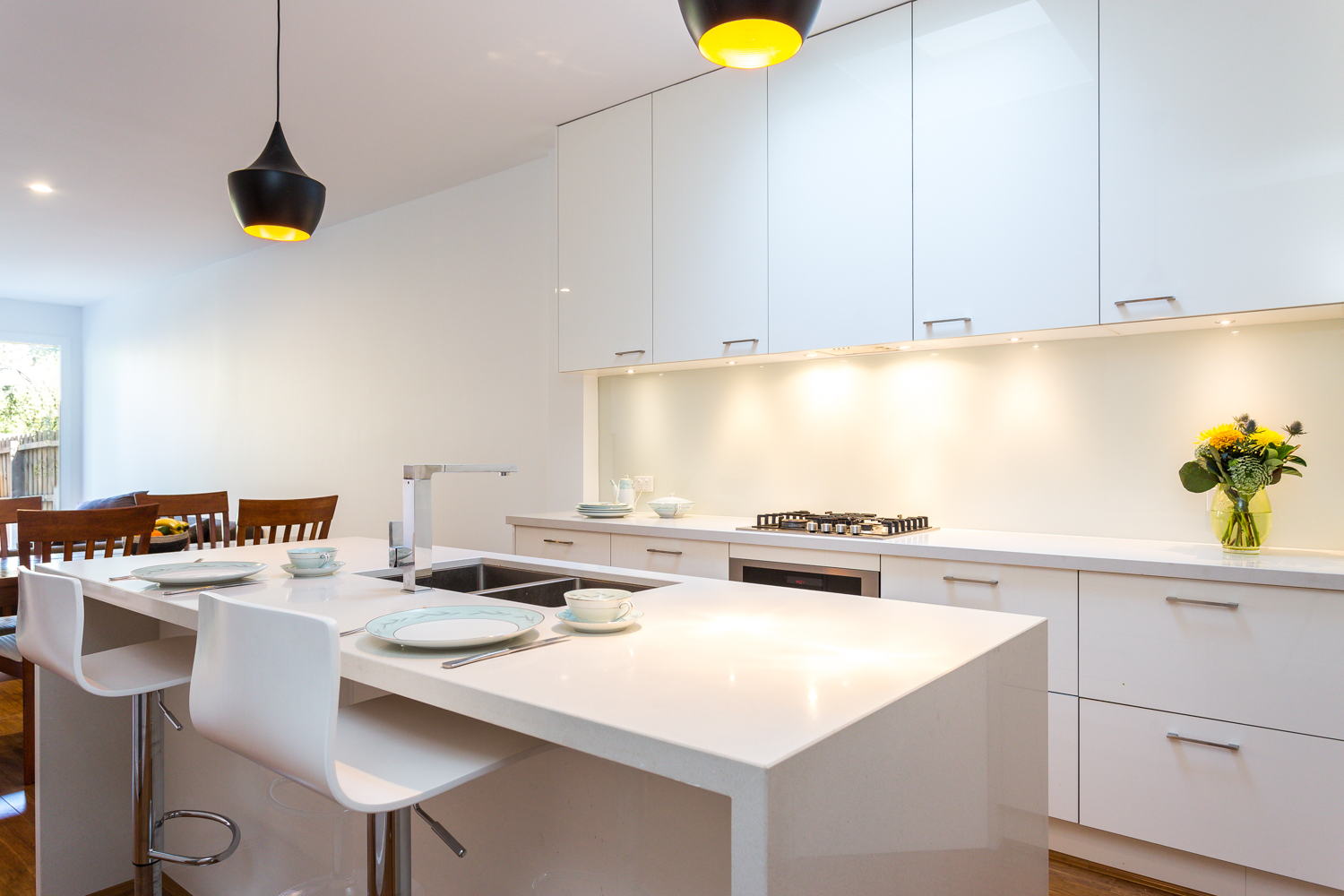 A tip to remember when designing white kitchens – although they can look clean and fresh a complete white look can also look 'cold'. Important to remember to break the white up and a popular choice these days to prevent this is by adding timber. Not only will your white kitchen look clean and fresh but instantly a warmth is added to the heart of the home. Some of our best kitchen designs have used this result and as seen below timber has been added to the neighbouring open living space door and roof to produce an absolutely stunning kitchen whilst adding enormous value to the home.
The addition of hardwood flooring and contrasting stone benchtops add different textures and finishes which all blend with the white gloss finish. A further option is to create a feature splashback of interesting tiles which tie all finishes beautifully highlighted against your white kitchen.
The cons of a White Kitchen
Are white kitchens going out of style? One of the most popular trends in kitchen design over the past few years has been white kitchens. These clean, bright spaces have become increasingly popular, in part due to their sleek and modern aesthetic. However, there are signs that the popularity of white kitchens may be on the wane.
One of the challenges of a white kitchen is that it can be difficult to keep clean. Fingerprints and smudges are highly visible on white surfaces, and even a small amount of dirt can make a space look cluttered. In addition, many people find that a completely white kitchen can feel cold and sterile. As a result, some homeowners are now opting for warmer, more inviting colors such as cream or light grey.
What Colour goes with a white kitchen?
The kitchen is the room where we spend most of our time preparing meals. So, it's important to choose a colour that we love for our kitchen. There are many colours that go great with a white kitchen, such as green, blue, and even black. Green goes great with white because it represents growth, new beginnings, and life. It also symbolises nature, which can give our kitchen a calming and peaceful atmosphere. Blue is another popular choice for kitchens because it represents trust, loyalty, wisdom, and confidence. It can give our kitchen a feeling of stability and strength. Black is also a good choice for kitchens because it represents power, authority, and sophistication. No matter what colour we choose for our kitchen, we should make sure that it makes us happy and comfortable when we're spending time in there.
One thing's for sure a white kitchen will always look timeless and always popular and we know this because our customers return time and time again to buy another "white kitchen". Check out all our white kitchen designs here.