In our experience, laundries can be deceptively difficult to design. While they are usually smaller spaces, plenty of functionality needs to be packed in. You will also want the space to be beautiful and match the rest of your house.
This usually requires careful planning and more than a little creative thinking to achieve. That said, there are a few simple things you can do to make designing the perfect laundry a little easier.
How to design a beautiful, functional laundry
Pick your appliances first:

The size, shape, and style of your laundry appliances will have a major impact on the overall design. For example, if you want a large top-loading washing machine, you will need an equally large gap in your cabinetry. But if you prefer smaller frontloading appliances, these can easily be fitted under a bench. So choosing your appliances at the start of your planning process will help shape the space.
Be clear about what you will use the space for:

Most laundries are truly multi-purpose and are much more than just an area for washing and drying clothes. They are often also a mud room, a cleaning equipment storage space, and where your pets sleep at night. You need to bear this in mind as you develop your design and make sure it will serve all these purposes.
Include a range of storage solutions:

Building on the previous point, the varied uses of a laundry room require a variety of functional storage options. Most importantly, you need to make sure you have at least one taller, deeper cupboard for your mops and brooms. You may also want to include drawers for cleaning supplies, cupboards for pet supplies, and open shelving for washing baskets.
Think about ventilation:

Ideally, your laundry should be positioned so that it adjoins an outdoor area (i.e. it has a door leading outside). If it can't be, it's important to include some form of ventilation, like an exhaust fan, in your design. This will help manage moisture levels in the space and is important for safety when using harsher cleaning chemicals.
Make sure there's enough bench space:

Many of the activities you will do in your laundry will require some form of work surface. So, while it may be tempting to skimp on the benchtop area when space is tight, try not to. This may mean getting creative with how you position your appliances or structure your storage space.
Find ways to inject personality:

Traditionally, laundry designs have been quite bland and mostly focused on functionality – but this is changing. While functionality is still important, laundries are increasingly seen as another opportunity to make a style statement. And statement floor tiles, feature splashbacks, and bold cabinetry colours are great ways to add flair to your design.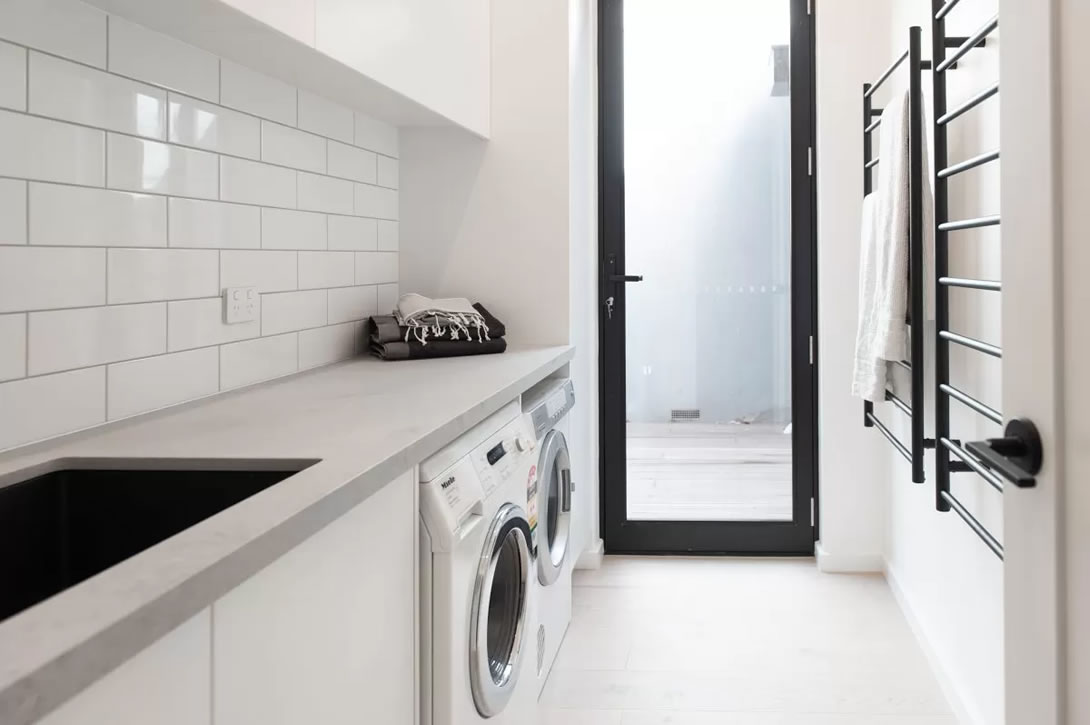 Want to discuss this further?
If you've been thinking about updating your laundry but aren't sure where to start, Zesta Kitchens can help. Our team of experienced kitchen designers are also experts in creating laundries that are as beautiful as they are functional. Call us today to discuss your plans or, if you're ready to get moving, book your in-home design consultation.